This classic crossover guitar is not only exceptional in size, but is also characterised by the unusual neck transition at 14th fret. It also features an artful side sound hole and a cutaway. It is very well suited for jazz or latin-oriented playing styles.
Description
The aim in building such crossover guitars is to combine what the guitarist considers to be the advantages of the steel string guitar with those of the classical guitar based on a nylon string model.
All That Jazz
This guitar features the large body of a steel string as well as the neck transition at 14th fret and the curved fingerboard. The profile of the neck is similar to that of a classical guitar, whereas the width is closer to steel string dimensions.
Our customer wanted a guitar suitable for jazz standards and Latin. Based on our Alegra model, which is also designed for modern playing styles, the tone should be adapted to his ideas. It was supposed to be rather dry, but still warm and powerful.
Crossover Sound and Concept
To fulfil these wishes, we took the body shape of our Ambition steel string guitar as a starting point and made the appropriate adjustments for a classical guitar. We left the neck transition at the 14th fret. The transition on classical guitars is usually at the 12th fret. Many steel string guitars are also built as 12 fret guitars, because this results in a better balance of the top divisions above and below the bridge and this bridge position makes the tone very warm and round.
The larger body produces an impressive volume with the bracing appropriately adjusted for nylon strings. To the dry and warm tone the side soundhole adds a wonderful overtone distribution.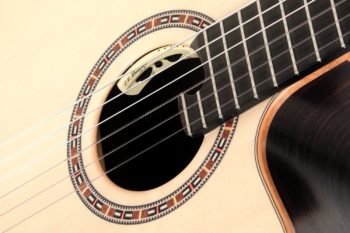 The Crossover guitar shines with a very direct response, which allows fast, accentuated runs and creates a slightly Spanish timbre. Nevertheless, it willingly accepts longer sustain.
Woods and Features
Indian Rosewood with its great selectivity in the trebles is the preferred body wood of classical guitarists and also fits well into the concept of this Crossover. The Spruce top, of course, contributes the most. On customer request, the woods can of course be varied, just like the neck width, which is 46 mm.The model is equipped with an L. R. Baggs pickup, the string action is kept flat and can also be adjusted to the customer's ideas (even later). Galli nylon strings support the desired sound as well.
Photos