40 years of Stoll Guitars
The luthier Christian Stoll has been a steady part of the German scene for many years. His models enjoy an excellent international reputation, no matter if guitars or basses are concerned. Although his instruments may appear traditional, they are full of innovative and unique details. His latest creation in the field of basses  is The Duke, an Acoustic Bass with an archtop construction.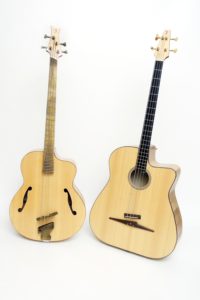 It all began in 1978, when a young man pursued his dream with all his might. By persistent appearance - as he likes to describe it - Christian Stoll persuaded the then largest guitar manufacturer Hopf to employ him as an additional apprentice for the subject guitar building. After an excellent apprenticeship, in 1983 he moved to his first own premises in Taunusstein-Wehen, where his own workshop took shape.
It soon became clear to him that only those who specialise can survive on the tough market. His passion was for acoustic instruments, so he began to consistently implement his own concepts and ideas in this field and combine them with traditional ideas. Today, more than 40 years later, Christian Stoll runs his own company with five employees, located in Waldems.
Among bassists Christian Stoll is best known for his Legendary Acoustic Bass. This well-known monster, also known as the "double bass to wear around the neck", impresses with its unbelievably high volume and sonority with outstanding playability. Once you've had your hands on it, you won't want to play any other Acoustic Bass, because they just look (and sound) like toys afterwards. Of course, this is only logical, a large body simply provides more sound in the low frequencies and is therefore an absolute necessity for an Acoustic Bass. But what Christian Stoll was the first to really manage is to combine this with very good haptics and playability. From my own experience I can say that this is the only Acoustic Bass I have ever heard of that can really exist in an ensemble without amplification.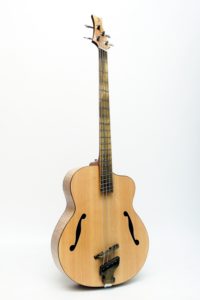 The Duke - the Construction
Starting from his distinctive but in many places still traditional model, Christian Stoll has designed the Duke Archtop, which defines the concept of the Acoustic Bass in a new way and unites many innovative concepts. The dimensions of the body are slightly smaller than those of the "big" Acoustic Bass. With a body width of 430 millimetres and a body depth of about 120 millimetres, The Duke is still remarkably large, but the archtop design appears more elegant and curvy. In addition, there is a multiscale fingerboard (fanned-fret system), which has a fanning of 864 to 903 millimetres. Bridge and headstock have been adapted to the "skewed frets" in design, which makes the bass look extremely stylish. The high-quality woods also contribute to this, of course.
The body is made of wonderful flamed Maple, combined with a top made of Sitka Spruce. Black Locust, better known as False Acacia, was used for the tail purfling and bindings. The tailpiece and bridge as well as the fingerboard, which rests neatly on a neck made of classic Spanish Cedar, are also made of this wood. Machine heads as well as strap pins come from Schaller and blend discretely into the elegant overall picture.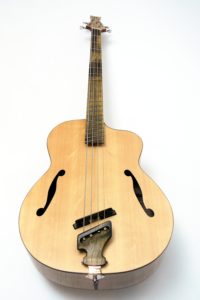 Handling and Sound
Now how do you play such a big bass? Sitting Christian Stoll recommends the posture of the classical guitar, that is with the body resting on the left leg, and it works. After a bit of trial and error, you quickly find a position where you can do everything with your left and right hand and the instrument is wonderfully balanced on your body. The Multiscale-fingerboard is easy to play thanks to the flat neck, the rather slight fan (compared to other manufacturers) makes it very easy to get used to. The comparably flat string action requires sensitive touch. Once accustomed to it, one is amazed how beautiful this Duke can sound. In the low register it sounds clean, clear and brilliant. The many overtones provide it with a transparency in tone that I have never heard before. In addition it is loud, really loud even! It's really surprising how much power it has without you having to do much as a player. In the middle registers the timbre gets an austere note, not unlike a cello. The high registers, which are all perfectly accessible thanks to a wonderfully smooth transition from neck to body, are radiant and invite you to play solos and chords. Once you start playing, you don't want to stop!
Personally, I would like a little thumb rest over the E-string, as I have discovered a wonderful sweet spot in the middle of the body, which provides an optimal mixture of warmth and assertiveness.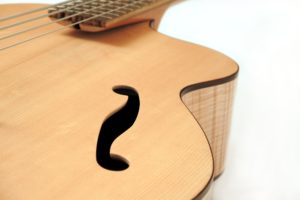 The Duke in Ensemble
Full of anticipation I took The Duke with me the very next day to a small rehearsal and then to a living room concert with a singer-songwriter. Actually I was booked on the Double Bass, but for the rehearsal The Duke should be enough. The line-up is completely unplugged, consisting of guitar and vocals, bass and percussion, which in this case meant a very small drum set with a lot of additional elements. From the very beginning of unpacking, the colleagues made big eyes, because even visually the bass is a real eye-catcher. But after the first few notes we were all amazed. As if tailor-made for our line-up, The Duke fitted in exactly between guitar and drums, with its clear lows it provided a perfectly audible sound at all times and also brought enough rhythmic elements into play when the drums could not do much. There was no lack of volume at any time. On the contrary, you even had to be careful not to get too loud with the Acoustic Bass when the guitar fingerpicked. I haven't had such an acoustic and intimate music-making in a line-up of this kind for a long time.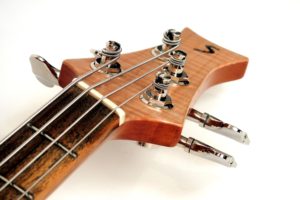 The Duke in Live Action
Spontaneously we decided to use The Duke at the concert in the evening. In a small music café we played slightly amplified in front of about 40 listeners. Since the Duke was delivered without a pickup (Christian Stoll of course offers the option to equip his instruments with pickups by default), I experimented a little with my mic from d:vote as well as with the  Amp Three from AER. Once again, I got fast and uncomplicated results with a stunning sound. The guitar and bass amps only served as a small support for the acoustic sound, which was completely sufficient for the size of the room and allowed the drummer to play more freely. The great playability opened up many great possibilities such as quick changes between classical alternation and fingerpicking, which, combined with chord playing, brought out the guitarist's solos in a completely different way. But even with pieces that stylistically moved towards country and bluegrass, a powerful touch above the fingerboard made it possible to imitate a Double Bass really well.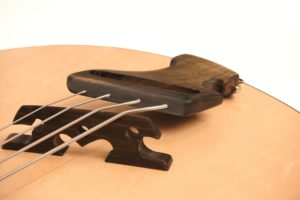 Conclusion
I became a little sad when I had to give back the fantastic instrument. The Stoll Duke Archtop is an extraordinary Acoustic Bass, which fits somewhere between Double Bass and Acoustic Bass and is incredibly enjoyable. High quality built and with a lot of love for detail you get an instrument you will have fun with for a long time. The scope of delivery includes a custom-fit gig bag to transport the bass safely. Each model is of course unique. Christian Stoll and his team will respond to any wishes as long as they are feasible. In the workshop as well as at selected dealers there are always some available for testing, so be sure to go there. It is worthwhile.


Info