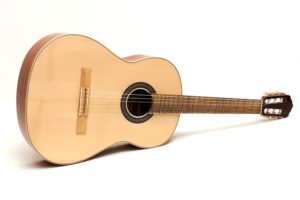 The basic class provides affordable guitars and emphasises on sound development.
The use of exclusively solid woods already starts with this class. The individual components are of good quality. Further, they are characterised by solid workmanship and a flat top.
Guitars based on basic class are particularly suitable for beginners, students, as a second guitar for guitarists who switch from steel to classic or vice versa, for teaching and for traveling.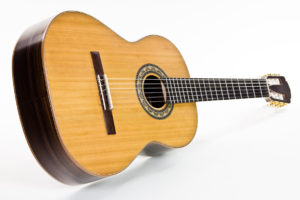 Special designs based on a model of the basic class are possible, but with restrictions. Our most advantageous models are the classical guitar  Estudio, steel string guitar PT69 and some of our ukuleles.
The premium class offers everything an ambitious guitarist needs to perform and to develop his/her skills. This includes all steel string models of the Ambition series. The classical section includes our models Alegra, Classic Line I and Classic Octave, most of the ukuleles and acoustic basses without fanned frets.
The components are of high quality with AA-class woods. They have a sophisticated interior and arched tops. For custom-made guitars there is a very large selection of woods. Those we do not have in stock, can be provided if necessary. All kinds of customised guitars based on a premium model are possible.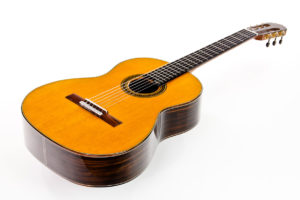 This class covers all guitars, basses and ukuleles of highest demands. Be it the choice of wood, the machines, the elaboration of the bracing or the appearance. For these instruments we use class AAA or Master grade woods.
In this class you will find soloist guitars in the classical section, which will make you shine brilliantly on stage because they combine the top of the line in guitar making. You will also find steel string guitars, acoustic basses and ukuleles with the latest developments, such as:  fanned frets, side sound port or bevel. Any kind of custom order and new developments is possible.
Overview Classes
 

Basic plus

Premium

State of the Art

Models

Estudio, PT 69, PT 69 Travel

Alegra, Classic Line I, Classic Oktav, all Ambition models, all ukuleles, Legendary Acoustic Bass, Classic Bass

Classic Line Pro, Classic Custom, Evolution M, S-Custom, Double Fun, IQ, IQ-Bass

Availability

Always

Always

Always

Waiting time

0 to 8 month

0 to 8 month

0 to 15 month

Top

Flat

Arched

Arched

Decorations

None

x

x

Neck joint

mortise and tenon or spanisch heel

Spanish heel

Spanish heel

Nut width

Classical: 48 - 52 mm

Steel: custom

Custom

Custom

Scale length

630 or 650 mm, others at extra charge

Custom

Custom

Machine heads

Solid quality

Superior quality

Highest quality

Binding

Top

Top and back

Top and back

Purfling

Simple

Superior, e.g. mosaic

Superior

Finish

Satin finish or satin gloss

Satin gloss

Satin gloss, High gloss, or Shelllac

Woods

A

AA

AAA or Mastergrade

Bracing

Solid

Superior

Sophisticated

Custom orders

Limited

No restrictions, based on a model of this class

No restrictions, including new models

 

Basic plus

Premium

State of the Art