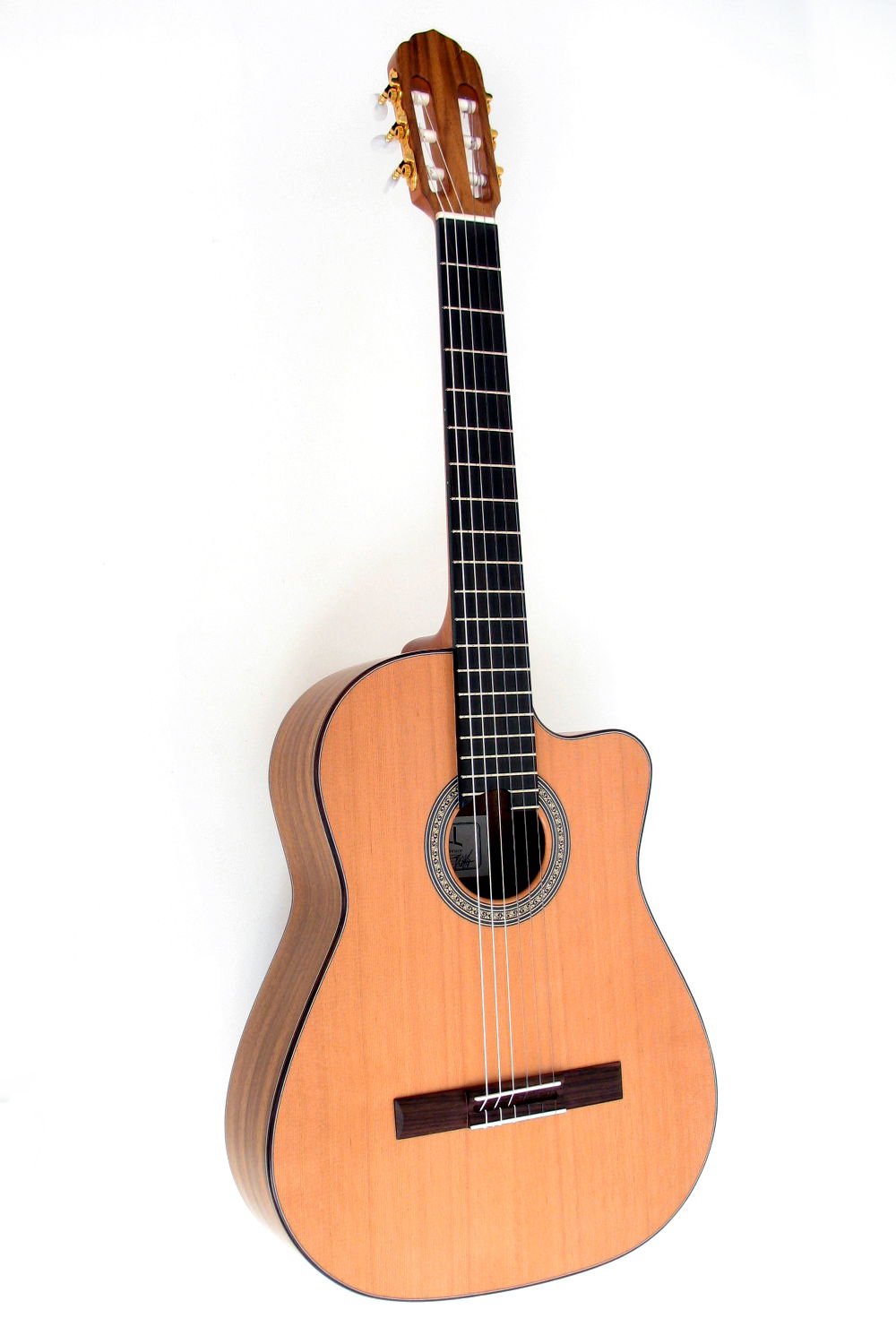 Overview
Alegra stands out for its extraordinary appearance. It was designed to allow steel string guitarists for easy switching to classical guitar. Due to its sound design it is particularly suitable for Latin-Jazz, Bossanova or other modern playing techniques.
Description
Alegra is a contemporary nylon string guitar, which produces a sound that differs significantly from the typical sound of a classical guitar due to its construction, bracing and wood selection.
The neck is also oriented towards the demands of modern playing styles with its flatter design and smaller width. The strings are deliberately kept low. Cutaway is standard.
The sound is balanced and present, but much more crisp, with a compact period of vibration, which supports fast guitar runs and virtuoso improvisations in the best possible way.
We prefer Indian Walnut to support this tone. Using "classic" Indian Rosewood for back and sides, adds to the guitar sound a bit more warmth and volume.
Alegra offers a wide range of playing styles, even the normal classic use is possible. - Its versatility knows no bounds.
Specifications
Type:
Class:
Premium
Back/Sides:
Indian Walnut
Top:
Spruce
Neck:
Spanish Cedar (spanish constructed heel)
Neck Width:
Variable, 48 - 60 mm
Scale Length:
650 mm
Fingerboard:
Ebony
Machine Heads:
Schaller
Strings:
Galli Genius GR40
Bridge/Nut:
Bone
Features:
Cutaway
Finish:
Nitrocellulose, satin gloss
Weight:
1,540 g
Case:
SCC Hardcase
Options:
Back and sides Rosewood,
top Cedar,
bevel (armrest),
fanned frets (multiscale fretboard),
custom neck-width,
pickup at choice,
lefthanded model
More:
Our Concept
How to order a STOLL
Custom Shop
RRP:
€ 3,300.-