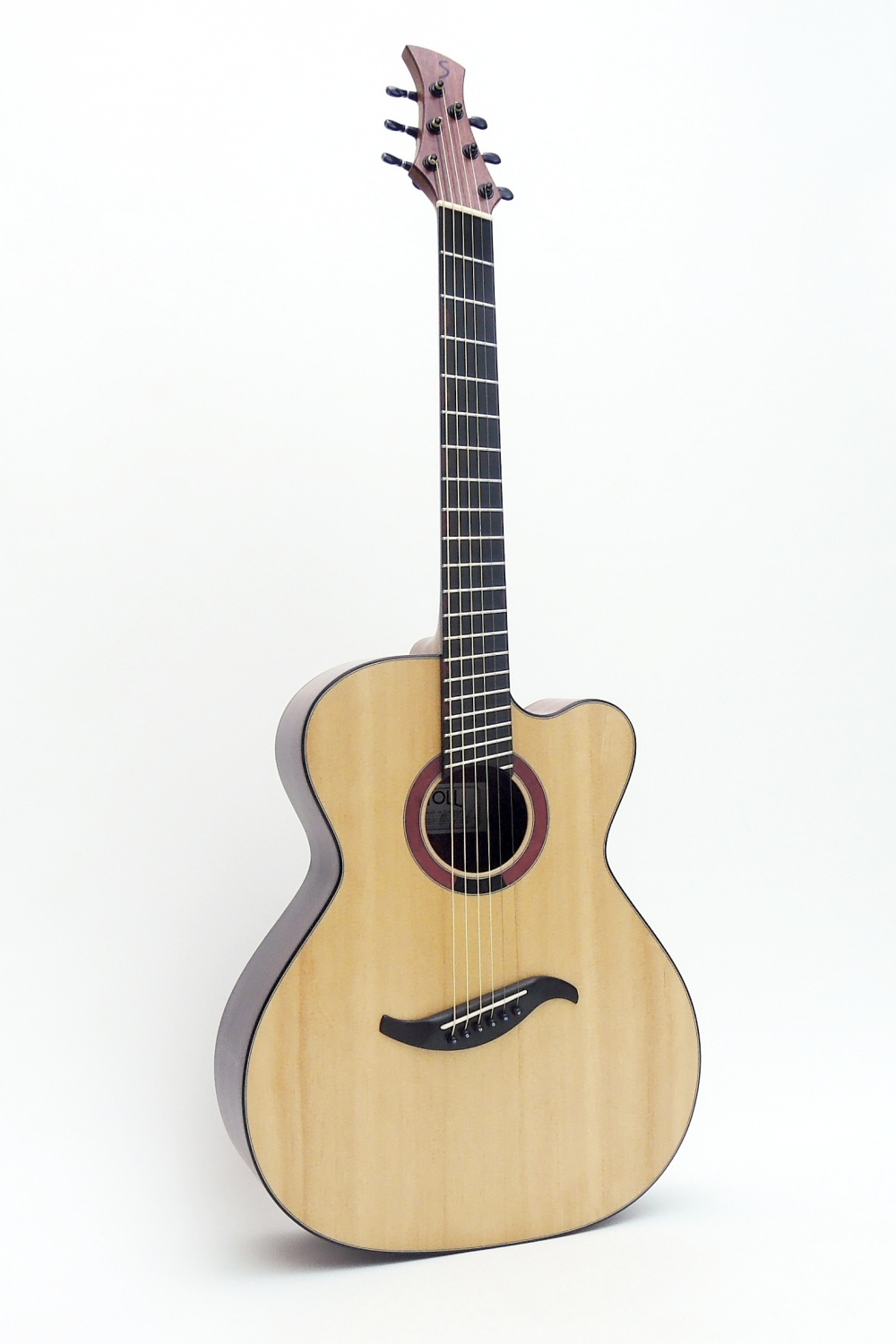 Overview
What do you get when you combine the tried and tested sound characteristics of the Ambition series with the furious features of the IQ? EVIDENCE, the mini jumbo high performance machine for guitar nerds, overwhelming sound, ergonomically easy to handle, versatile for any genre and 100% accurate intonation due to fanned frets.
Description
The all-rounder for ambitious guitarists and maniacs to-be, stands out due to its domed top, Spanish constructed neck and balanced bracing system paired with moderately fanned frets, cutaway, pleasant body shape and aesthetic design. Whether modern fingerstyle, new age or blues, EVIDENCE can cope with everything.
... and you can cope with her, because she is both flexible and compliant, but also wild - if you wish. Whether delicate arpeggios, powerful strumming or sophisticated fingerpicking, she shows what you've got because she gives what she's got.
Material and Concept
The design of EVIDENCE is kept asymmetrical in accordance to the fanned frets. Large thorn inlays (by the way absolutely harmless)  over the whole fretboard with double thorn at 12th fret, colour-matched to the respective wood selection of back and sides characterise this beauty. The rosette is also matching. A four-fifth circle of back-and-sides-wood separated by two-coloured frames gives the EVIDENCE style and class. The bridge pins with abalone or brass inserts go well with this.
The stylish head is adorned with Gotoh 510 closed single machine heads and  the obligatory "S" of course.
EVIDENCE is currently available with Amaranth or Rosewood back and sides and Sitka Spruce top. We are happy to build for you with other woods and are curious about your special wishes.
Sound and handling
Not only in design, but also in sound, EVIDENCE is the "missing link" between ambition and IQ. Impressively the precision of tone generation is paired with the warm and rich rounded sound characteristics of Ambition, thus making it so versatile.
The handling is incredibly ergonomic thanks to the lightly fanned fretboard (638/662 mm in comparison to IQ 640/680 mm) which requires absolutely no time to familiarise. The string action is flat and comfortable as always and the neck contour allows for extremely relaxed playing. The mini-jumbo shape is easy to handle and fits snugly in your lap.
We did our best, now it's your turn.
Specifications
Type:
Class:
State of the Art
Back/sides:
Indian Rosewood resp. Purple Heart
Top:
Sitka Spruce
Neck:
Spanish Cedar (spanish constructed heel)
Neck Width:
46.5 mm
Scale Length:
Treble: 638 mm, Bass 662 mm
Fingerboard:
Ebony
Machine heads:
Gotoh 510
Strings:
Elixir Nanoweb
Nut/bridge:
Bone
Finish:
Nitrocellulose, satin gloss
Weight:
1,900 g
Case:
SCC Hardcase
Options:

Cedar or Engelmann Spruce top,
back/sides variable,
neck width variable,
bevel,
side soundport,
lefthanded model,
nitrocellulose high-gloss finish,
pickup at choice

More:
Our Concept
How to order a STOLL
Custom Shop
RRP:
€ 4,300.-