Magazine: Akustik Gitarre 02/2016 | Author: Andreas Schulz
Christian Stoll has his own signature as a guitar maker. He cultivates a highly individual mixture of tradition and modernity and also has a knack for beautiful contours and attractive design. This time we will test a custom model of his well-known Ambition Fingerstyle.
This guitar was built for a customer who actually comes from the classical field. Even if you would not choose all of his special wishes yourself, such an instrument is well suited to show the possibilities of customising.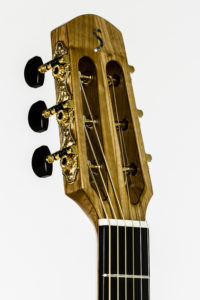 Construction
The Ambition Fingerstyle is a 12-fret steel string and traditionally comes with a slotted headstock. The top is made of solid Engelmann Spruce in AAA quality, back and sides are made of solid European Wild Cherry - a rather bright wood with an intensive stripy grain. The back is made of two bookmatched parts. The Engelmann Spruce top is also quite bright and typically has a very narrow and even structure, so that from a distance you can no longer see any grain pattern at all, just a homogeneous surface. The standard model by the way has Rosewood back and sides. The body shape of the Ambition is an in-house development by Christian Stoll, located somewhere between dreadnought and classical guitar, with a moderate depth of the sides between 9.5 and 10.5 centimetres.
The bindings are made of Rosewood and are discreetly adorned on the top with a wooden mosaic purfling, which can also be found as a three-ring sound hole border - another custom feature, because normally an abalone ring is placed here. The neck is made of Spanish Cedar, the heel is glued to the neck.
Christian Stoll used the Spanish heel construction to connect neck and body - this is more known from classical guitars. The neck carries a strong and evenly deep black Ebony fretboard, the neck-body transition is at twelfth fret, the fretting comprises 18 medium frets plus an extension for E-, b- and e-string. The headstock bears a Wild Cherry veneer to match the back and sides; a gold-plated open Hauser-style Schaller machine head with Ebony buttons has been fitted to match the fingerboard. The slotted headstock carries a Mother-of-Pearl Stoll-S.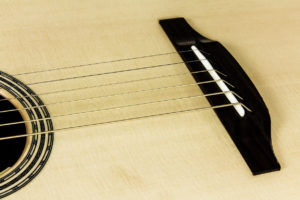 The strings are mounted to a string-through Rosewood bridge - again a deviation from the standard at customer's request - and run over a bridge saddle and nut made of bone. Again further details are more often known from classical guitars, so there are no fingerboard markings, not even on the side. The neck comes fingerstyle-friendly with a width of 46 millimetres at the nut and 56 millimetres at the twelfth fret, the scale length is 65 centimetres. In accordance with the customer, the neck shaping was designed as a strongly flattened D that fits perfectly in the hand. The instrument has a nitrocellulose finish, the neck is satin-matt, the body satin-gloss.
This custom version of the Ambition Fingerstyle proves Christian Stoll's talent as a luthier with traditional roots, but who is just as open for developments and experiments. Experiments when they make sense, promote sound or handling and do not require unwanted compromises. This instrument offers room for tradition, implemented in the 12-fret construction with slotted headstock and the construction with Spanish heel joint. The use of Wild Cherry as wood for back and sides is certainly not an everyday occurrence. In addition there are some parameters which the customer has chosen. All in all we get a harmonious instrument, implemented on a high level of individual guitar building. Everything on the guitar exudes the aura of expert craftsmanship and shows no flaws whatsoever.
Pickup and Preamp
This custom steel string features an L.R. Baggs Anthem, a premium pickup system consisting of the Element Piezo under the bridge saddle, combined with a special microphone in the body. This system has proven effective many times and stands for the most natural sound possible. The manufacturer has managed to get the internal microphone out of the usual potty sound. The control unit with volume and mixing ratio is located in the upper sound hole, on board are also a phase shifter and a button to check the battery capacity.The 9-volt battery is located in a small pocket in the body next to the neck base; the output socket is, as usual, also the end pin jack.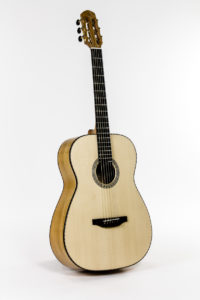 Handling and Sound
The body of the Ambition is large in size, but easy to handle. The instrument sits confidently on the lap, and you notice already with the first notes and chords that it is extremely pleasant to play. The coordination of fret, neck curvature and string action is designed for easy but noise-free playing at medium attack; the neck width and the rather strongly flattened profile suit the fingerstyle player whose thumb is reliably placed on the back of the neck and does not park on the top edge in cowboy position. The intonation is very good over the entire playable neck range.
The sound test results in an incredibly transparent sonic image: based on solid but not overpowering basses, the rich mids transport the player's action. They are remarkably cultivated and avoid everything whiny or aggressive. Towards the higher register, a fine series of presences and overtones follows, surrounding the played notes with a light aura and giving them a beautiful, multidimensional contour. These are of course ideal conditions for fingerstyle work, especially for guitarists who are more interested in beautiful sound than in earthy blues articulation. The woody dryness of a, let's say, well-hung slope shoulder dreadnought or an old 12 fret Martin-style flattop is not provided by the Stoll Ambition Fingerstyle. Instead everything that should sound fresh, transparent and elegant.
Song accompaniment, celtic, modern, new-age can be excellently realised with this instrument. The response is grandiose, even light strokes produce a full and expressive tone, the sound can be shaped and modulated very well, the implementation of any action of the player is exemplary. Even simple chords - if they are articulated cleanly and confidently - sound like music and radiate depth and expression. All in all, this results in an extremely tidy sound image with a lot of character, which can be used in many musical ways. Only blues players and power strummers are left out - there are better suited instruments for them. Light strumming, flatpicking and also single tone lines picked with a plectrum fit very well into the overall picture of Ambition Fingerstyle.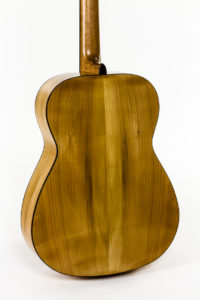 Conclusion
Stoll Guitars is a huge custom shop. On the basis of established and proven models, guitarists can have their individual instrument built - just like this Ambition Fingerstyle with Wild Cherryback and sides and a number of other personalised features. In design, materials, finish and sound, the guitar once again testifies the craftsmanship and expertise of the luthier. If you are looking for a steel string tailored for fingerstyle and want to see your own ideas realised, you should pay Christian Stoll a visit.
Interesting facts
Cherry as tonewood (by Christian Stoll)
Cherry as tonewood for back and sides of a guitar stands for a clear, well-balanced tone with rather delicate, floating high frequencies. A guitar made of Cherry never sounds as hard as a Maple guitar or as mid-range oriented as a guitar made of Rosewood. The sound has its own character, which can be influenced by the choice of wood for the top. In combination with Cherry I prefer very light top wood  and I usually find it in Engelmann spruce.
Unfortunately Cherry in tonewood quality is only available in very small quantities and therefore not very widespread. This of course has also an effect on the price. Indian Rosewood tends to cost less than European Cherry of the same quality, even though it has a much longer journey. It is to be hoped that increased demand from instrument makers will lead to better sorting in sawmills in the future.
Infos