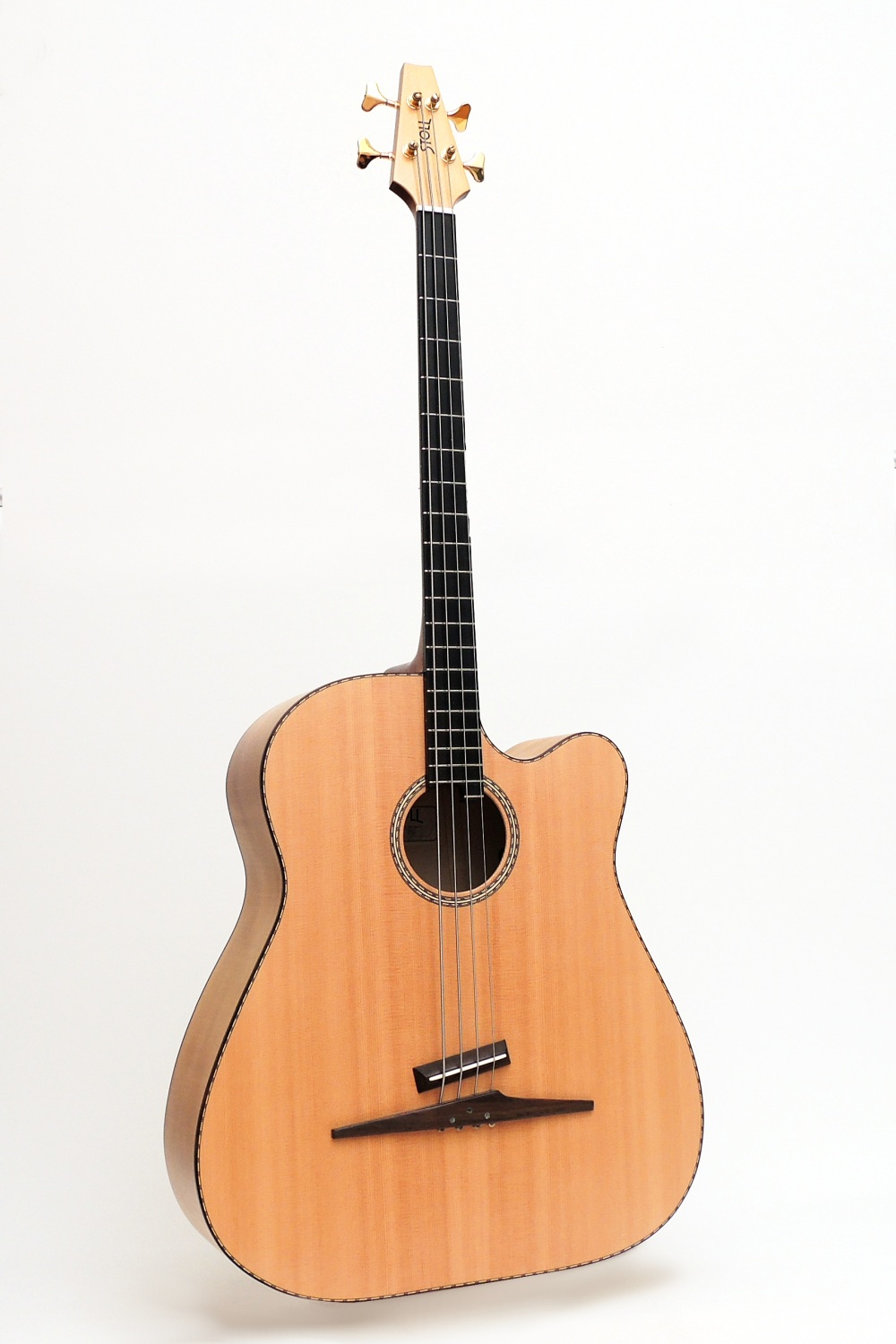 Overview
Where others already fail the STOLL Acoustic Bass just gets into gear. Unusual volume and a well-designed interior life make this instrument a specialty in the realm of the acoustic bass.
A precise tone with a powerful force reminds the listener strongly of a double-bass. So it is sometimes affectionately called "the Double Bass to put on." With this bass you will be seen and heard!
Description
With a body width of 530 mm, a depth of 142 mm (at the widest point) and a scale length of 864 mm, the Legendary Acoustic Bass stands out clearly from its competitors. Anyone considering the laws of acoustics, must come to the same conclusions as we did: Only a large sound box is able to effect a sonorous and vibrant sound. Consequently the Legendary Acoustic Bass can stand its ground unplugged in an acoustic ensemble.
Even small people can handle the bass by taking the recommended posture. When standing, the position can be easily adjusted by raising or lowering the neck. When sitting the body is placed between the legs, with the upper bout resting on the left knee.
In contrast to the large body the neck was designed extremely slim. Its width of 42mm (4-string) allows for comfortable handling. The Legendary Acoustic Bass is equipped with Elixir Nanoweb Medium Long Scale electric bass strings, which add up to the fat double-bass sound.
For interaction with amplified instruments we recommend the Element pickup by L.R. Baggs. This way, the Legendary Acoustic Bass will meet every demand, be it unplugged or plugged be it a Bossanova duo, Klezmer ensemble, bluegrass band, classical ensemble, jazz combo, folk band, be it at the campfire or in the studio with a microphone or wherever else reasonable acoustic bass sound is required.
Specifications
Type:
Class:
Premium
Back/Sides:
Maple
Top:
Sitka Spruce
Neck:
Spanish Cedar (spanish constructed heel)
Neck Width:
4-String: 42 mm
5-String: 49 mm
6-String: 57 mm
Scale Length:
864 mm
Fingerboard:
Ebony
Strings:
Elixir E-Bass Nanoweb
Bridge/Nut:
Bone
Machine Heads:
Schaller goldplated and security lock
Finish:
Nitrocellulose, satin finish
Weight:
4-string 2,990 g
Case:
Luxury Gigbag
Options:
fretless (free of charge)
5-string, 6-string
lefthanded model,
pickup at choice
More:
Expert talk on acoustic basses
Our Concept
How to order a STOLL
Custom Shop
RRP:
4-String: € 3,800.-
5-String: € 4,100.-
6-String: € 4,400.-
prices without pickup