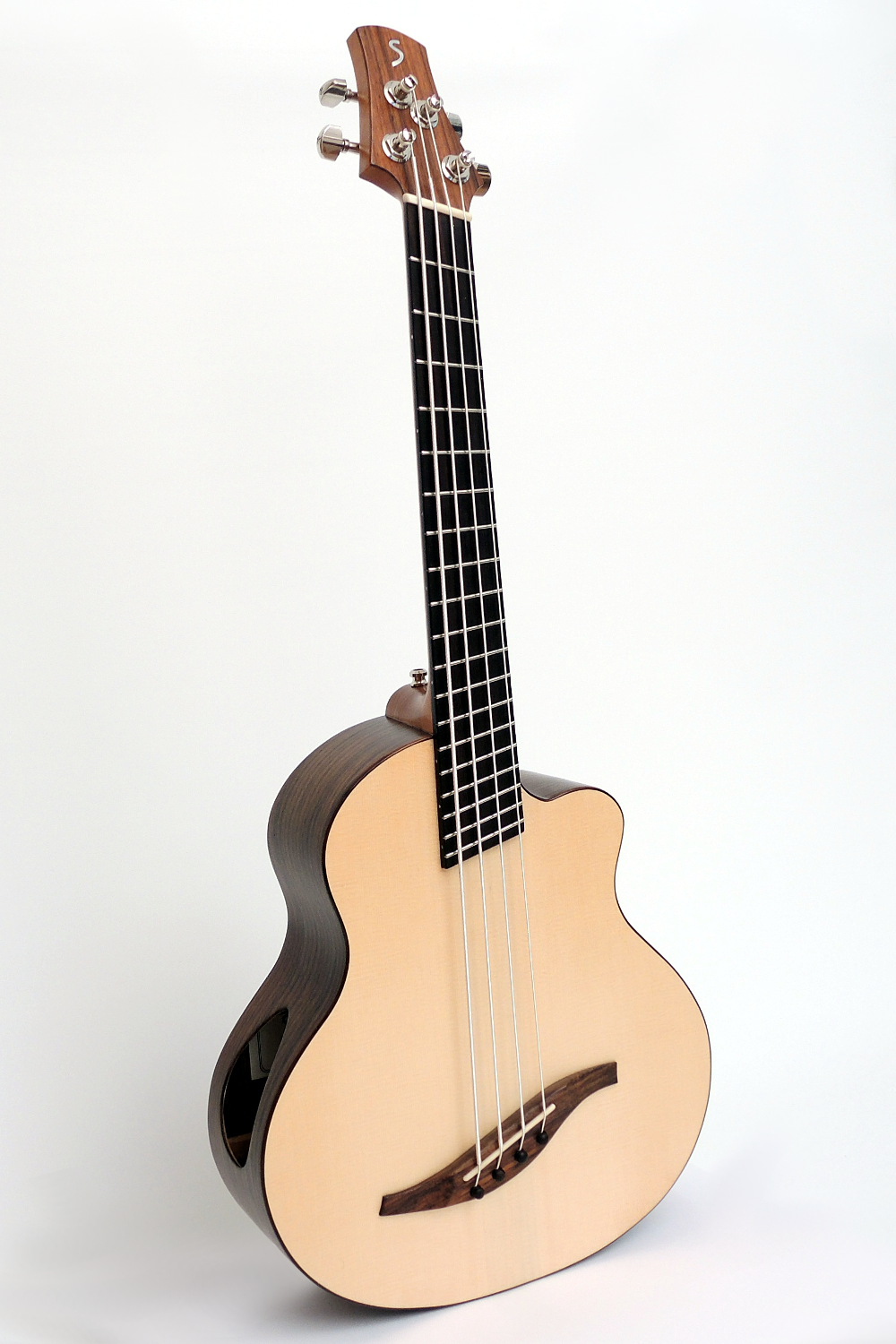 Overview
THE Travel Size Acoustic Bass
Balanced, precise with quick response in both bass and treble, this Bass Ukulele is excellently suited for anyone looking for an Acoustic Bass easy-to-carry. Despite its size, it also convinces with an impressingly sonorous sound.
Description
The collaboration with professional musicians in terms of design results in quality  far above usual Bass Ukuleles. On top of that it is as well able to enter into competion with conventional Acoustic Basses without difficulty.
Sticking to our IQ concept, this little powerhouse is equipped with a multiscale fretboard. The sound hole was moved to the side to allow for a maximum of vibrating surface. For the same reason, it features a widened lower bout. This step results in even more surface, and in addition, the sides are moved farther from the bridge and thus support optimal vibration. With the wide lower bout we increased also handling convenience. Now the player may comfortably rest the picking hand which prevents blood circulation issues.
Jumbo Sound Ukulele-Sized
Small but powerful! With a scale length of 560 to 600 mm this dynamic beauty is loud, crisp and focused. It has a wide midrange with solid fundamentals and subtle overtones. Unlike most ukulele basses, it shines with impressive presence.
We achieved this by combining an excellent construction with a special made kind of  strings. Strings commonly made for Acoustic Basses are too stiff to be applied to such a short scale. The strings, made by Pyramid, have a nylon core which is wound with silver-plated copper wire. Thus they are more flexible and therefore  able to sustain much longer and cleanly as well. This way the Bass Ukulele can generate more sound and volume with these short strings than an average Acoustic Bass with a common scale length.
For this Bass Ukulele we chose classical woods like Indian Rosewood for back and sides and Spruce for the top. Other percussive woods are available on request.
Specifications
Type:
Class:
State of the Art
Back/Sides:
Rosewood
Top:
Spruce
Neck:
Spanish Cedar, spanish constructed heel
Neck width:
43/44 mm
Scale length:
560/600 mm
Fingerboard:
Rosewood
Machine Heads:
Schaller
Strings:
Pyramid
Bridge/Nut:
Bone
Finish:
Nitrocellulose, top satin gloss, back and sides satin finish
Weight:
1,255 g
Case:
Gigbag
Options:
Different tone woods,
lefthanded model,
nitro-high-gloss polish,
pickup at choice
More:
Expert talk on acoustic basses
Our Concept
How to order a STOLL
Custom Shop
RRP:
€ 2,600.-