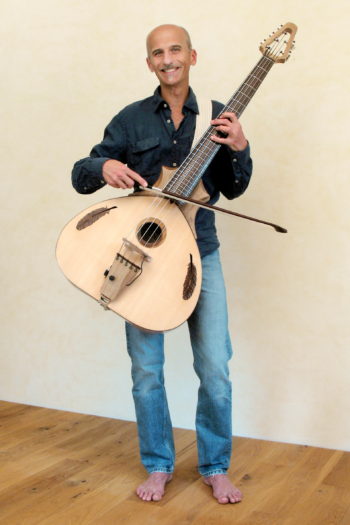 Configure a guitar (or an acoustic bass or a ukulele) according to your personal preferences. Whether slight modification of existing models or the implementation of your wildest fantasies - we are open to everything. The individualisation process has four stages:
Each of our standard guitars gets a minimum of individuality by favorite neck width, neck profile and string position.
Slight deviations from an existing model by choice of woods, different machines, rosette, string thickness, fingerboard markers or inlays, body size, installation of a pickup, partially fretted fingerboard, etc.,
Strong deviations from an existing model due to changes on head shape, body shape, number of strings, etc.,
New creations.
Should you find yourself in the first category, continue reading here.
How should it look like?
A custom design does not only relate to appearance and sound. Ergonomic considerations such as neck width and shape, string position, bevel, body size and depth are very important details that must be well considered. Furthermore also technical details such as cutaway, type of bridge or head or pickup matter. And of course, all components cannot be considered completely detached from each other, but must work well together.
Not sure?
Even if you do not yet have an exact idea of some of the components of your desired guitar, together we will identify the unique characteristics and necessary details. 
One-on-one consultation clarifies requirements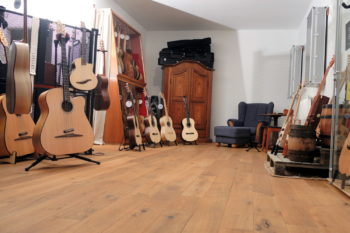 In a joint meeting we check whether your ideas are feasible and which price range we are discussing. For this we take as much time as necessary.
We'll find out if one of our standard models should be adapted to your needs, for example neck width or shape, string position, fretboard inlays, fretting etc. or whether we should create something completely new like for example a PT 59 parlour that has the sound characteristics and woods of the PT 59, but the parlor-shaped body. Or maybe we build a double-necked reversible guitar, a bowable bass or whatever you want.
Your ideas - our know-how
According to your information, we can elaborate or modify specific characteristics in a consulting talk, but may also discard ideas if, for example, a desired optical or technical feature can not be reconciled with certain sound requirements or is simply not feasible. In this case, we develop alternatives that come close to your wish, implement it in a different way, or even better than the original idea. With the experience of 35 years of guitar making, there are no unsolvable problems with us, but only challenges.
Certainty by trying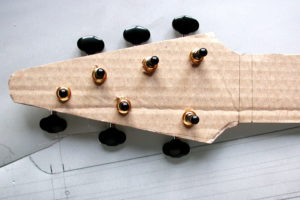 How do I know exactly which components are the best for me?
We usually have a number of about 50 instruments of all types and classes ready for testing. By trying the existing instruments, you have the opportunity to check your ideas:
Which body size suits me?
What neck width and shape feels pleasant?
Which string action feels good?
What does a parlor, an ambition, a jumbo sound like? What does Indian Rosewood, Brasilian Rosewood, Mahogany, Mango, Indian Walnut, Silver Oak, Moa etc. sound like?
In this process you might often find your wishes confirmed and thus feel safer. But it may also happen, that for example, you might opt for a jumbo guitar because you need a loud instrument, but this feature does not fit your body height. The result of the consultation may then be a parlor guitar, which is a little smaller than the "usual" guitar. Instead of size and volume the desired loudness is then achieved by appropriate woods and measures on the bracing system. So after your visit you return home with the confidence of getting the best for your very personal needs.
By email or personally
Of course, we may process your order from the first contact and detailed advice to purchase by Email.
Many times, however, a personal visit is very helpful for decision-making.
Order process
After everything has been discussed, we will send you a written offer detailing all specifications. So you have a final opportunity to check whether we understood you correctly. As soon as you confirm the offer, you will receive an order confirmation and an invoice. For individualisation level 1 and 2, the down payment is 600 €. At customisation level 3 and 4, it is 900 €.
The deposit secures your place in the queue and fixes the price. It covers the initial expenses for your guitar, such as material planning and design, and is non-refundable. Once the building process begins, a second payment of at least 1,000 € is due. With a very high degree of customisation, such as a completely new construction, this second instalment can rise to up to 50% of the purchase price. The remaining balance is due upon the guitar's completion before shipment or on collection.
When will it be finished?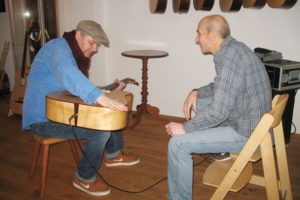 Now we start building your guitar. Depending on the model, this can be done very quickly. For instance, if your modification requests are based on a model that is already under construction, your guitar may be ready in four weeks. In most cases, however, be prepared for a construction period of at least eight months.
Delivery
When your guitar, bass or ukulele is finished, we will send you a message. You can choose whether to have the instrument sent to your home by mail or whether to collect it at our workshop.  Personal hand-over has proven to be useful, because after the fitting, we can immediately do the tailoring like for instance fine-tuning the string action.