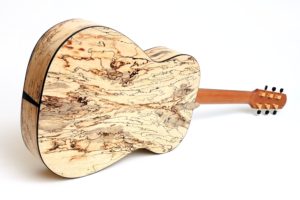 In search of alternatives to the highly restricted Rosewood we found some really promising wood species. One of this woods is Moa, the other one is Tamarind, which we want to introduce with this post.
As Rosewood is commonly used for fingerboard, bridge and binding and thus also troubles crossing frontiers, we decided to build some guitars totally free of Rosewood. For this reason we went for Ebony as a substitute. Regarding all other parameters this Steel String Guitar is built just as our standard Ambition.
The Wood
Tamarind is probably native to tropical Africa but planted throughout all kinds of tropical regions. The one we used for this guitar comes from India. As Tamarind is mainly used for nutritional purposes (the fruits), we hope its suitability as tonewood will increase the availability and thus lower the price of this wood.
While Indian Rosewood strongly emphasizes the lower mids, the frequency spectrum, which is accentuated by the tamarind, reaches into the bass and treble range. The result is a balanced, brilliant and crystal-clear tone.
Remarkably Tamarind packs even more punch than Indian Rosewood.
We do not know any other wood that combines this quality with such brilliancy.
Tamarind has an outstanding string separation, which is strongly reminiscent of tone generation with harps. The guitar responds excellently to percussive playing, tapping or fingerstyle. The frequency spectrum also harmoniously supports the human voice.
We are so impressed by the sound that we will soon be starting to build an IQ of Tamarind. We expect the result to be terrific.
A whole new sound experience presented by a guitar of breathtaking beauty. If you are ready to dig something deeper into your pockets, you will be rewarded not only with thrilling acoustics and optics. Due to its qualities, this guitar challenges the player to top-notch performance.