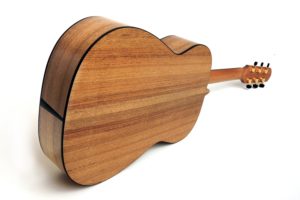 In search of alternatives to the highly restricted Rosewood we found some really promising wood species. One of this woods is spalted Tamarind, the other one is Moa, which we'd like to intruduce with this post.
As Rosewood is commonly used for fingerboard, bridge and binding and thus also troubles crossing frontiers, we decided to build some guitars totally free of Rosewood. For this reason we went for Ebony as a substitute. Regarding all other parameters this  Steel String Guitar is built just as our standard Ambition.
The Wood
Moa or Australian Teak is a very nice, evenly grained wood with a medium brown shade. The structure of Moa reminds of Mahogany, but it is much harder.
Moa is probably native to Australia and Papua New Guinea but planted also in India mainly to reforest former mining areas. We really enjoyed building a guitar of Moa. It is well to be processed and in the price range of Rosewood, so we only have to charge a little extra for the Ebony accessories.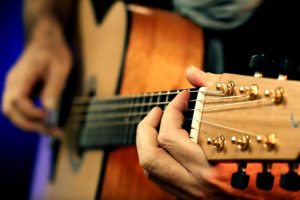 Regarding the sound development, Moa is very similar to Indian Rosewood. Both woods emphasise the lower mids whereupon Moa is slightly slower in response but then becomes more powerful and expansive than Indian Rosewood.
Floating etheral trebles are the cherry on top of sound characteristics which can be described as very harmonious and well balanced.
A real alternative to Indian Rosewood! Reasonable priced wood, easy to process and convincing in sound, Moa could become an adequate replacement. Even in terms of colour, the changeover is not difficult, since Australian Teak is strongly reminiscent of Mahogany.