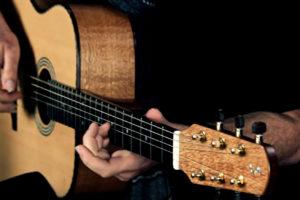 Silver Oak - CITES-compatible
The search for alternatives to Rosewood has led us some time ago to Indian Silver Oak. This eye candy sounds softer than Rosewood.
Free of Rosewood
For fingerboard and bridge we chose Ebony. In terms of all other parameters, this steel string guitar is similar to our Ambition Standard model.
Indian Silver Oak (Cardwellia Sublimis) has a warm, friendly, reddish-silvery hue with a very lively, but uniform, partly flamed pattern.
Sound
The tone of this Ambition is soft and mellow. Shimmering highs hover transparent and smooth and develop a vivid rich and dynamic sound. Even more impressive is its reactivity and a noticeable volume output.