10.04.2013 Musikmesse Frankfurt Acoustic Stage 3.30 - 4.00 p.m.
Guitar and Bass Duo Just Friends with new CD "Coast to coast"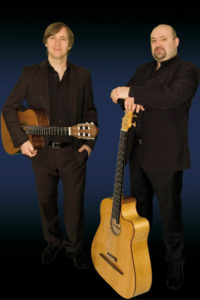 After 12 years the strings artist Alexander Holz and Oliver Kraus present their second CD as a pure Duo.
With nylonstring acoustic guitar and 6-string acoustic bass made ​​by STOLL they have ventured on the greatest rock classics of history: through the sophisticated arrangements and delicate playing Smoke on the Water, Stairway to Heaven and California Dreamin get as shiny new as Santana's Europa and Samba Pa Ti.
Black or White by Michael Jackson in a light funky unplugged version? No problem for the veterans. And of course, with Route 66 and an impish and rapid arrangement of Pink Panther their passion for swing is not missed out.
The mix of the CD can be described as innovative, the friends chose a direct bold sound with brilliance, which demands every available precision, but also demonstrates the entire tonal scale of the instruments.

Preview: Just Friends