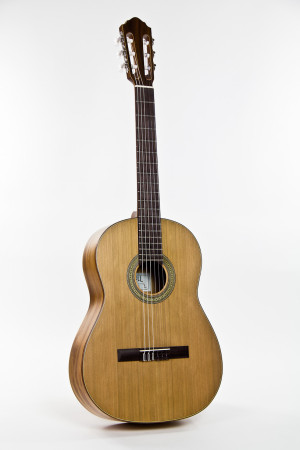 Overview
This model was built from 1995 to 2020.
All solid basic classical guitar with mahogany back and sides and spruce or cedar top with a scale length of 630 or 650 mm.
Description
This classic guitar is our model for beginners, no matter teenagers or adults. Especially for the beginner it is important to play a guitar that motivates by its sound development and playability. Trying on a bad instrument, whether a guitar is suitable, one might quickly stop enjoying, be it because of bad intonation or poor playability.
This is why we have developed a concept that allows us to offer an all solid student guitar at a reasonable price.
Primera is built by our apprentices in the first and second year of apprenticeship. Under strict supervision, our apprentices learn the basic principles of guitar construction on this model. For this purpose, we use A-Class woods, which have an excellent sound quality, but sometimes show optical deviations from standard.
In the construction of this classical guitar, we omit anything that does not serve the sound optimisation. We use for example  a light, natural finish. The result is an affordable classical guitar with the fundamental quality characteristics that characterise all our instruments: solid wood, good workmanship, good playability and good sound. According to this concept, Primera is of limited availability.
Specifications
Type:
Class:
Basic
Back/Sides:
Mahogany
Top:
Cedar
Neck:
Mahogany (dove tail joint)
Neck Width:
Variable, 48 - 52 mm
Scale Length:
650 mm
Fingerboard:
Rosewood
Machine Heads:
Schaller
Strings:
Galli Genius GR40
Bridge/Nut:
Bone
Finish:
Nitrocellulose, ultrathin satin
Weight:
1,420 g
Case:
Softcase
Options:
Spruce-top (no surcharge),
Maple back and sides (no surcharge),
scale 63mm and 65mm,
lefthanded model,
pickup at choice
More:
Review
Our Concept
How to order a STOLL
Custom Shop
Original price in 2020:
€ 900.-