The 2000th Guitar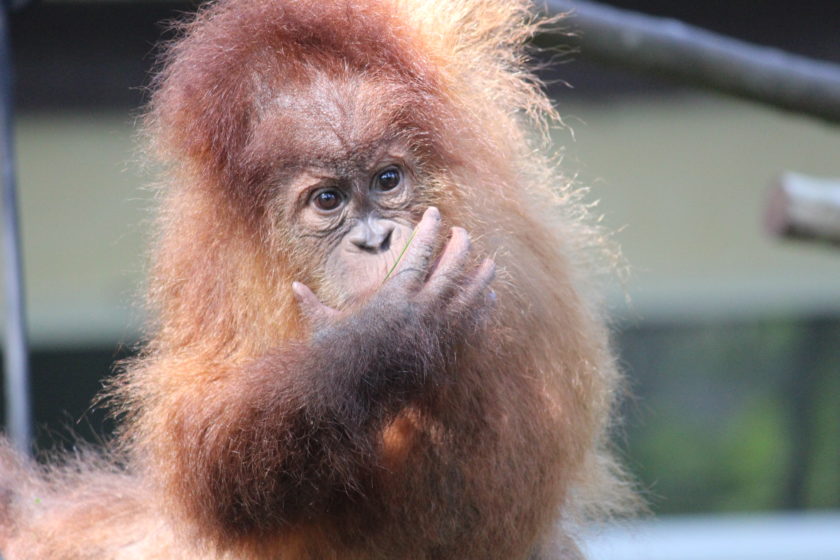 For the anniversary of Guitar No. 2000 we have come up with a very special guitar. Its back and sides are made of Ebony, in the fretboard an Orang Utan is inlayed. 1.000 € of the proceeds of this parlour will be donated to Fans for Nature.  
Why we do this? There is a connection between Orang Utans, rainforest and guitar building.
The rainforest is a matter of concern to all of us
Lutherie and Rainforest
We as guitar builders are also asked to act sustainably when buying our woods. We take this task very seriously. Most of the wood we use comes from plantations and sustainable forestry. For example, the mahogany we use, which is native to South America, is cultivated on plantations in India and Indonesia. Spanish Cedar, also originally from South America, is grown on plantations in Ghana. For more than 25 years we have been buying a large part of our timber using a direct contact with an Indian timber supplier. The rest we obtain from other trusted dealers. This way we can be sure that we do not receive illegally felled timber.
The Drama of the Orang Utans
And this is the connection to the rainforest. Not only we humans are affected by the deforestation of the rainforest due to climatic changes, the orang utans are also losing their habitat. Orang utans live only in Borneo and Sumatra. The population is decreasing drastically, partly due to lack of habitat and partly due to abuse. Mothers are killed in order to get hold of their babies, which are then kept in tiny cages as cute toys at best, and used as prostitutes at worst.
Donation for Our Next of Kin
Therefore we would like to support rescue stations for orang utans with our guitar No. 2000. 1.000 € of the proceeds of this guitar will be donated to Fans for Nature.  This is a very small non-profit society whose members work on a voluntary basis. This way we can be sure that all the money is really spent on the protection of the orang utans.
Fotos
Take a look at many more photos and a detailed description of the anniversary model.