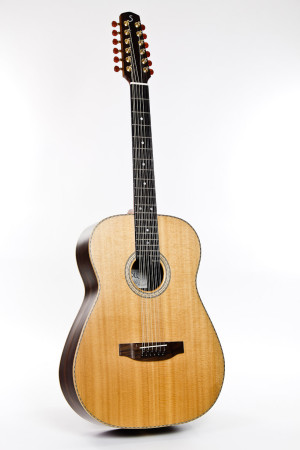 Description
The Ambition - 12 is a "Twelve-String" without compromises. Based on the Ambition-Standard model here the neck to body junction is at the twelfth fret to be able to place the bridge at a particularly favorably spot at the center of the top.
With the help of a sophisticated bracing-system the top was adapted to the requirements of the increased string-tension. The result is a full and intense but nevertheless differentiating sound.
By applying Schaller Mini machine-heads with the lightest available buttons to the headstock, weight could be saved so that the instrument is appropriately balanced and well handled.
The low string-action provides for minimal energy expenditure when fretting the guitar and makes for an extremely easy playability of a 12-String Guitar.
Specifications
Type:
Class:
Premium
Back/Sides:
East Indian Rosewood
Top:
Sitka Spruce
Neck:
Cedro (spanish constructed heel)
Neck Width:
Variable, 48 - 52 mm
Scale Length:
65 cm
Fingerboard:
Ebony
Bridge/Nut:
Bone
Machine Heads:
Individual tuners
Finish:
Nitrocellulose, satin finish
Case:
SCC Hardcase
Options:
Cedar Top, nitrocellulose high-gloss polish,
scale-length user-defined,
bevel (armrest),
fanned frets (multiscale fretboard),
lefthanded model,
pickup at choice
More:
12-String Guitars
Our Concept
RRP:
€ 3,100.-