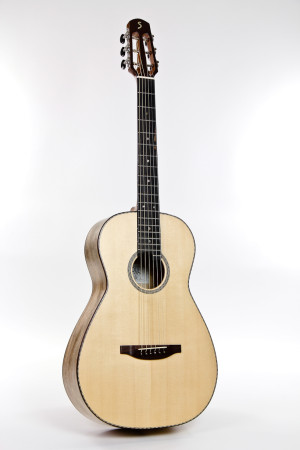 Description
Parlour models are somewhat smaller in body-size than regular standard size guitars with a neck-body-transition at 12th fret.
In the Parlour the emphasis was laid on not loosing any sound-quality due to the smaller size.
A balanced sound with full bass and transparent treble was achieved with a special bracing.
The Spanish-Neck known as the most advanced neck-body-joint in classic lutherie is used as a standard for this steel string model.
The scale of 650 mm is the same as on a "large" guitar while the transition to the body is at the 12th fret.
Specifications
Type:
Class:
Premium
Back/Sides:
Mango
Top:
Engelmann Spruce
Neck:
Cedro (spanish constructed heel)
Neck Width:
Variable, 42 - 50 mm
Scale Length:
65 cm
Fingerboard:
Ebony
Bridge/Nut:
Bone
Machine Heads:
Schaller Hauser
Finish:
Nitrocellulose, satin gloss
Case:
SCC Hardcase
Options:
Cedar Top, choice of back and sides e.g. East Indian Rosewood, Indian Silver Oak,
scale-length user-defined,
bevel (armrest),
fanned frets (multiscale fretboard),
lefthanded model,
pickup at choice
More:
Ambition Parlour Mahogany
Ambition Parlour Silver Oak
Ambition Parlour Mango
Ambition Parlour 62 - American Walnut
12-Fret-Guitars
Our Concept
RRP:
€ 2,990.- Rosewood back and sides (standard)
€ 3,290.- Mango back and sides