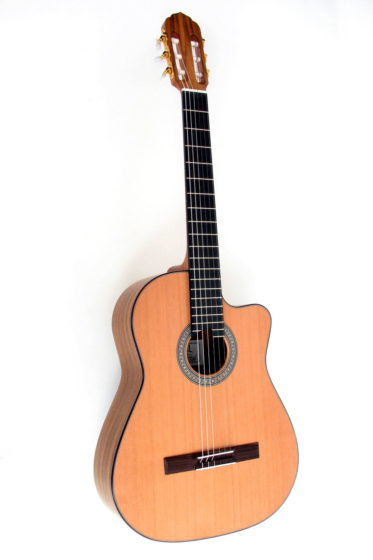 Description
Alegra stands out through its unusual appearance. It was designed for easy switching between streelstring and classical guitar.
With its flatter profile and lesser width the neck is oriented  towards more modern playing techniques. The string-action is purposely held low. The cutaway is standard.
These features open up a wide field of applications. With the design of the sound it is ideal for Latin-Jazz, Bossa-Nova and other modern ways of playing. But a straight forward classical use is also possible - there is no limit to its versatility.
The spanish-neck, the most advanced neck-body joint, is a usual standard for this model as well. Of course we can build this instrument with a wider neck if requested.
Specifications
Type:
Class:
Premium
Back/Sides:
Indian Walnut
Top:
Spruce
Neck:
Spanish Cedar (spanish constructed heel)
Neck Width:
Variable, 48 - 60 mm
Scale Length:
65 cm
Fingerboard:
Ebony
Machine Heads:
Schaller
Bridge/Nut:
Bone
Features:
Cutaway
Finish:
Nitrocellulose, satin gloss
Weight:
1,540 g
Case:
SCC Hardcase
Options:
Back and sides Rosewood,
top Cedar,
bevel (armrest),
fanned frets (multiscale fretboard),
custom neck-width,
pickup at choice,
lefthanded model
More:
Our Concept
RRP:
€ 2,800.-