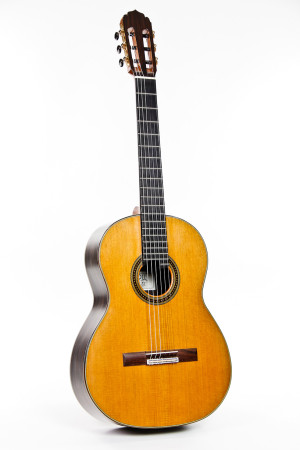 Description
For this guitar only the most valuable and exclusive materials are being used. The top has an elaborate Shellac hand-finish, an art that has become rare. fine first-class tuning-machine-heads and  a perfect set-up by the hand of master complete the picture.
The Classic Custom is an excellent soloist instrument that can stand its ground on the stage. With its clear, crisp tone, it has an incredible presence and volume. In combination Macassar Ebony/Cedar it conjures a unique sound that pricks the ears of both hobby players and professionals.
Of course, we build this masterpiece in any desired combination of woods. We provide certified Brazilian Rosewood as well as Madagascar and Honduras Rosewood.
Specifications
Type:
Class:
State of the Art
Back/Sides:
Makassar Ebony
Top:
Cedar Mastergrade
Neck:
Cedro (spanish constructed heel)
Neck Width:
Variable, 48 - 60 mm
Scale Length:
65 cm
Fingerboard:
Ebony
Machine Heads:
Klaus Scheller
Bridge/Nut:
Bone, double-drilled nut
Finish:
Nitrocellulose, satin gloss
Weight:
1,710 g
Case:
SCC Hardcase
Options:
Body Brazilian, Honduras, Madagascar Rosewood and any others,
Top Spruce,
pickup at choice,
Gotoh, Alessi or Sloane tuning-machine-heads,
bevel (armrest),
fanned frets (multiscale fretboard),
Cutaway etc. etc...
Due to the fact that these instruments are exclusively built on special order everything (almost) is possible!
More:
Certified Brazilian Rosewood
Our Concept
RRP:
Basic Model € 7,000.-
Brazilian Rosewood Basic Model € 8,000.-