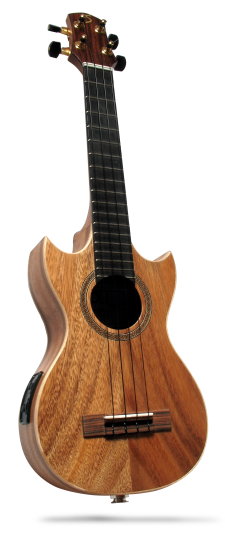 Description
According to traditional Hawaiian models we build ukuleles in 4 classic sizes baritone, tenor, soprano and concert.
Our experience enables us to design optimized shapes and bracings for rich an full sound. Our know-how allows for a wide variety of tonewoods for body and top.
The shown concert ukulele with double-cutaway, pickup and preamp is a custom order and shows clearly in which direction a traditional ukulele can develop in the hands of an experienced luthier. The standard model is manufactured without cutaway and electrical equipment.
The displayed ukulele is completely made of indian mahogany and the sound is clear and well balanced, with a lovely, warm tone. We use this wood to acquire the typical ukulele sound. Different sounds are possible with softer top woods.
Specifications
Back/Sides:
Mahogany
Top:
Mahogany
Neck:
Spanish Cedar
Fingerboard:
Ebony
Machine Heads:
Schaller mini
Finish:
Nitrocellulose, satin gloss
Bridge/Nut:
Bone
Features:
Double Cutaway, McLoud pickup
Options:
Different tone woods,
cutaway,
lefthanded model,
nitro-high-gloss polish,
pickup at choice
More:
Our Concept
RRP:
€ 1,450.-

Standard model from: € 800.-