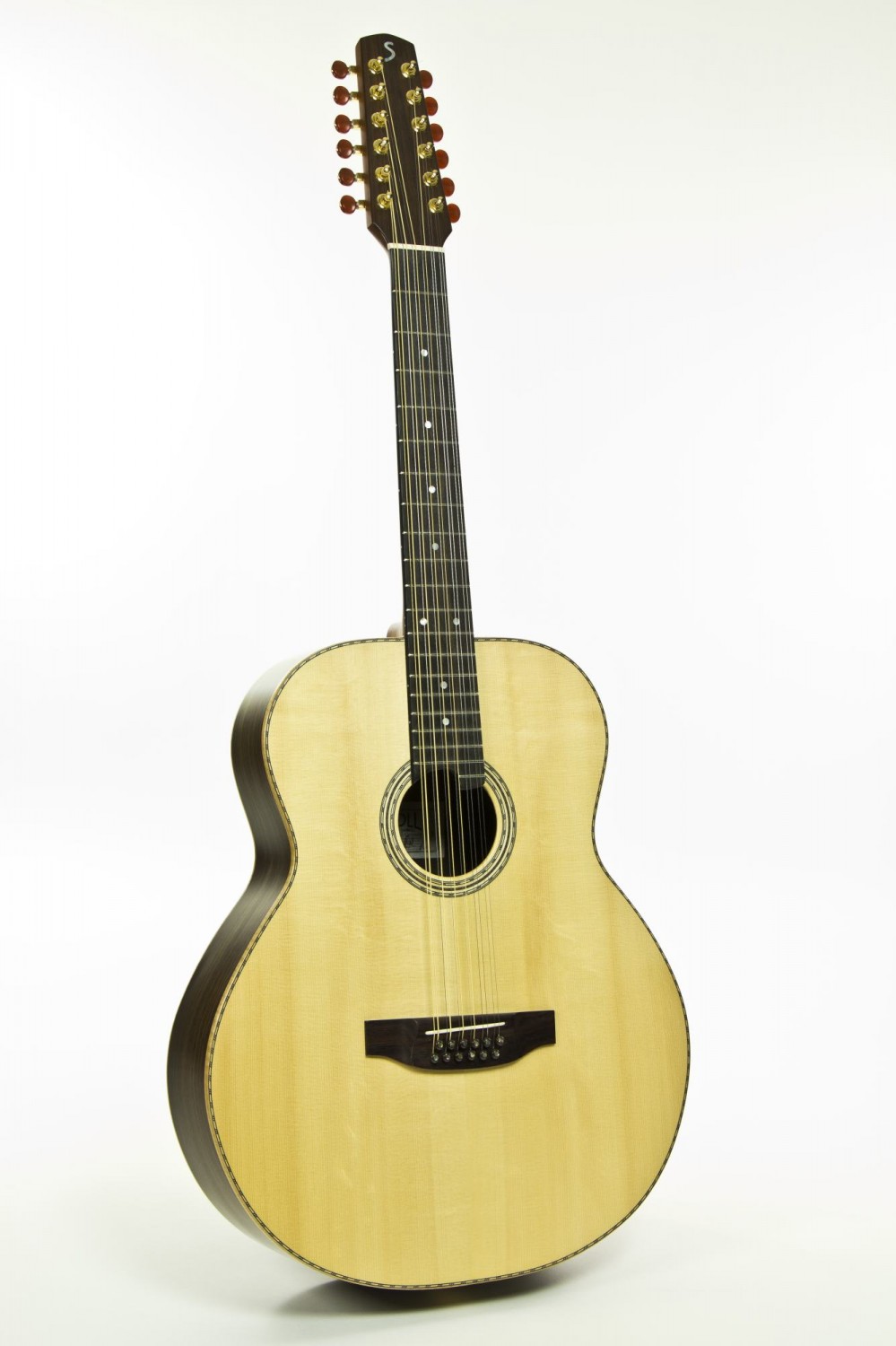 Description
This Jumbo 12-string guitar is the consistent further development of our models Ambition Jumbo and Ambition 12.
For the 17 " corpus a sophisticated bracing-system was conceived, which pursues two goals: balanced reinforcement of the sound volume and adaptation to the increased string-tension.
The Jumbo 12 captivates by an enormous and nevertheless differentiated sound, which convinces just like that of his 6-string sister by clear precise basses, a broad mid-range as well as velvety trebles.
Our Jumbo 12-string guitar is built with a neck width of 50 mm, which can be changed however at no surcharge. As is the case for all ambition models here an individual choice amongst a multiplicity of tonewoods is also offered.
Specifications
Type:
Steel-String Guitar
Class:
Premium
Back/Sides:
East Indian Rosewood
Top:
Sitka Spruce
Neck:
Cedro (spanish constructed heel)
Neck Width:
Variable, 48 - 52 mm
Scale Length:
65 cm
Fingerboard:
Ebony
Machine Heads:
Schaller mini
Bridge/Nut:
Bone
Finish:
Nitrocellulose, satin gloss
Weight:
2,310 g
Case:
SCC Hardcase
Options:
Cedar top, Engelmann Spruce top,
Maple back and sides,
nitrocellulose high-gloss polish,
lefthanded model,
scale-length user-defined,
bevel (armrest),
fanned frets (multiscale fretboard),
pickup at choice
More:
12-String Guitars
Our Concept
RRP:
€ 3,600.-